Membership
WOESA MEMBERSHIP
WOESA Section 21was created as a special vehicle that will facilitate women's participation in the Oil, Gas and other Energy sectors in South Africa. We invite women who would like to empower themselves in the sector to become a member of WOESA by completing the membership application form and sending it to the WOESA office.  
WOESA Membership Application Form
Types of Membership

WOESA has three types of membership:
Individual Company/ Members
Corporate Member
Associate member
Individual Company / Member
Businesses privately owned by women within the industry or businesses with a majority female shareholding, seeking to expand their client/services base and who would benefit from the networking and business opportunities created through WOESA
Corporate Member
Businesses whose core activities are within the industry, with representation of for example women directors, executives, and managers, who are looking to increase their BEE through the development of women within their organisations.
Associate Member
Organisations who support the vision, mission and values of WOESA, but who are not necessarily in the industry, e.g. financial institutions 
Membership fees
The membership fees listed below are based on the type of membership applied for, thereafter an annual renewal fee of R300 is requested to maintain your membership with WOESA:
| | |
| --- | --- |
| 1. Corporate (up to 20 staff persons) business within industry  | R 50 000 |
| 2. Associate (non-industry related) company | R 25 000 |
| 3. Individual Company/ Member | R 2 500 |
| 4. Membership Renewal Fee – per annum | R 300                              |
Benefits of being a WOESA member
Access to list of members
Knowledge sharing
Access to skills and expertise
Access to database
Sharing of information
Sharing of skills
Greater access to major investments
Greater access to business and investment
Category of women who are currently members of WOESA
The below diagram is a representation of the areas of expertise of women who are currently members of WOESA. The areas include Oil, Energy and Engineering, Construction, Trading, Retail/ wholesale, Services, Investments, Education and Government. The last category is representative of women which do not fit in any of the above mentioned categories. The results depicted below are based on information to the best of our knowledge provided by our members. Many of the members do not fit into one sole category but rather a combination of them.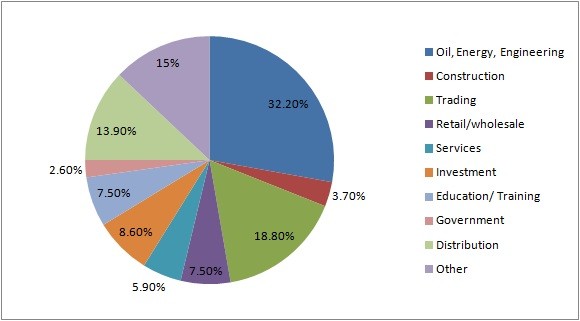 MEMBERSHIP RENEWAL 2014 NOW OPEN……
Dear Members
Re:  Membership Renewal
Thank you to all the members who participated in the WOESA/ ENABLIS Training Programme. We have renewed our Memorandum of Understanding with the Department of Energy for the year 2014/2015, through which we seek to improve the nature of support to our members. We also have an agreement with Shanduka Black Umbrellas for greater capacity building and opportunities for participation in Enterprise Development as well as Supplier Development Programmes in various corporates.
To that effect we need to update our data base and to determine if your company will be actively involved in the planned activities, and also to match your company to the opportunities for the current year. Please indicate interest by payment of R300 for membership renewal.
The account details are as follows:
Account Name: WOESA (Women in Oil and Energy SA)
Bank: Nedbank
Branch Name: Business Pretoria
Account Number: 149 712 872 2
Branch Code: 149 745
Type of Account: Current Account